Small Business Health and Dental Service
$60 visits, $10 prescriptions, dental care also available


A partnership with Piedmont Health to provide affordable health care to uninsured and under insured employees and family members of Chamber members. This isn't health insurance, but it does give you, your employees and their dependents access to affordable primary health care medication. Participation in the service is free and gives you access to primary care physicians for $60 per visit, including any in-house exams, as well as prescription medications filled on-site for $10.

CLICK HERE for more information and to download the forms.
---
Collins Design Realty Conference Room
Looking for a meeting space conveniently located in the heart of Hillsborough? The Collins Design Realty Conference Room at the Chamber is available to rent. Seats 8 classroom-style, 12 boardroom style, and includes use of a 40" Sony LCD display for presentations, as well as Wi-Fi access, whiteboard and coffee maker. The room is available to Champion members and above once a month/2 hours for no charge, Entrepreneur members for $35/2 hours; and to non-members for $50/hour. Contact the Chamber to request booking the conference room at
info@hillsboroughchamber.com
or (919) 732-8156.
---
Have you started a new business? Has your company relocated? Have you recently renovated your office or place of business? If so, it is time for a ribbon cutting! The Chamber will promote your event on the online calendar and our weekly Hillsborough Happenings newsletter. We will attend your special event with ribbon, gigantic scissors and of course Mayor Tom Stevens. Schedule your ribbon cutting today (919) 732-8156
Need tips for planning your ribbon cutting ceremony?
CLICK HERE
---

Certificates of Origin
Orange County is home to a number of companies that conduct business internationally. To address the needs of these business, The Hillsborough/Orange County Chamber of Commerce stamps certificates of origin at no or discounted cost depending upon membership. Contact our office for more information (919) 732-8156.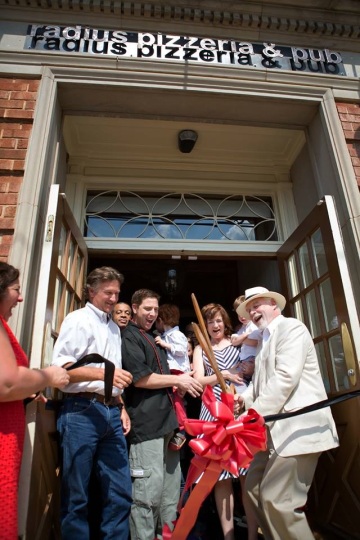 Ribbon Cutting with Mayor Tom Stevens and Chamber Board Members at Radius Pizzeria and Pub